Sabriye Tekbilek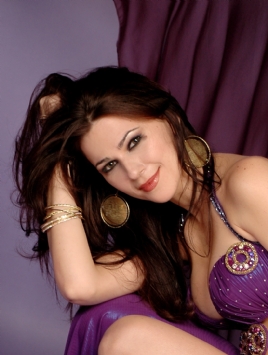 Webbplats: www.sabriyetekbilek.com
Sabriye Tekbilek is an international performer and instructor of Middle Eastern dance whose stage presence and technique have been shaped by a lifetime of international performance and study. She is the daughter of renowned Turkish musician, "Haci" Ahmet Tekbilek, and Lisa Djeylan, once an international bellydancer herself.
She is currently one of few the authorized instructors of the Suhaila Salimpour Format and holds the highest level of certification available in both Jamila and Suhaila Salimpour formats.
n 2005 Sabriye based herself in the Middle East where she has since worked for seven years with Lebanese agent Toros Siranossian through out the Gulf and North Africa. She aslo spent one year in Cairo working at the prestigious night club Haroun Al Rashid in the Semiramis Intercontinental Hotel along side the legendary Dina. Sabriye has to date danced across the U.S., in Sweden, Norway, England, Turkey, Spain, Greece, the United Arab Emirates, Bahrain, Syria, Morocco, Tunisia, Egypt, China, Hong Kong, and India. She has performed at exclusive venues including the Nobel Prize Party, Warner Bros. Studios, the Miss India Competition; and she has shared the stage with popular Arabic stars such as Ragheb Alama, Wadi Al Safy, Sbohi Tawfik, Marwan Khoury, Wael Kfoury, Abdel Basset Hamouda, Saad, Mahmuod el Husseini, Houba and regularly performs globally for dignitaries.
She has recently returned to Sweden to focus on teaching.
Sabriye Tekbilek är tillgänglig för dansuppdrag
Kontaktinfo:
sabriyetj@gmail.com 072 944 5632
Bosatt i Stockholms län

Är du en Orientalista?
Skaffa dig ett
Orientalista-konto
! Du kan bland annat kommentera blogginlägg och artiklar eller lägga upp second hand-annonser.
»
Kontakta oss gärna
om du har tips på konserter, shower, fester eller annat orientaliskt och kulturellt som sker i Sverige.